Yangon Travel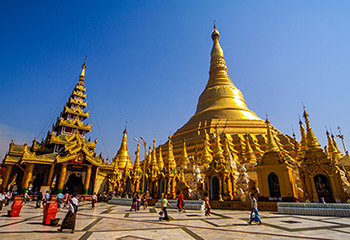 Before being made the Capital of Burma by the British Colonialists,Yangon in former times was a fishing village of little importance, a mere jumble of thatched huts. Today the town is also famous for being Asia´s Garden City. Downtown Yangon is a jewel of Colonial Architecture – but alas this jewel is increasingly losing its splendour partly due to the encroachment of contemporary building on traditional sites.
Visitors to Yangon will see their dreams come true – the city has so much to offer – except a "nightlife". An evening´s pleasure will be restricted to savouring the manifold delicacies of the Indian, Thai, Chinese, Western and indigenous cuisines which the many restaurants offer. What a nice way to end a lovely day in charming Yangon.
Today Yangon is not only the most important commercial and political centre of the country but also a tourist attraction to any visitors. In almost all Myanmar Tours, Yangon is usually the first stop. There are many things you can do and see in this wonderful city. Shwedagon Pagoda must be the first name in your mind. This spectacular golden pagoda – it is also called The Golden Pagoda – is the religious symbol of Myanmar and also the most famous landmark of Yangon. Its color is even more sparkle at night under the sky of Yangon. On the road of the Shwedagon Pagoda, you can visit some other spots of beauty in Yangon like the 2,500-year-old Sule Pagoda or heading to the central Yangon for a shopping at the mall. The second name may be the Bogyoke Market, also known as the Scott's Market where one can buy anything in one place. Besides two famous places above, Yangon boasts many other interesting places for you like the Mahabandoola Park, National Museum, Inlay Lake and some Cathedrals such as St.Mary and Holy Trinity…
Moreover, you can take part in many activities in Yangon. The Circular Train may be the ideal choice for a fascinating day with 1$ and passport.  Cuisine is also an important part of the Burmese. In Yangon, you can join in the cooking demonstration or take a cooking class with the guide of an expert chief.
About the eating places, Yangon is the land of restaurant. You can find any country's gastronomy in this small city, from Italian, Indian to Japanese and Korean. There are many fast food restaurant with pizza or hot-dog. Some famous names you must visit if you want to experience the food in Yangon like Seven One One Restaurant on Anawratha Road, 999 Shan Noodle Shop with unforgettable noodle, Feel, Hla Myanmar with the local dishes, Golden City Chetty – an ideal choice for tasting Indian cuisine and Soe Pyi Swar – best choice for the vegetarian. The Street Food is not varied but if you want, you can find a street food along the Mahabandoola Roads with many food stalls.
Other Information About Yangon
Getting Around
Public Transport in Yangon
Bus
There are over 250 bus lines running around Yangon. There are over 2.5 million commuters a day. Recently, CNG (Compressed Natural Gas) was introduced as new fuel for buses operating in Yangon. The bus fares starts from Ks 40 to Ks 120, depending on the distance the traveller takes.
Train Circular Train service is available. There are 11 local trains for ciruclar services through 37 railway stations. The train fares are cheaper than the bus fares. Yangon Central Railways Station near Aung San Stadium is the main station in Yangon.
City Taxi Taxis are plenty in Yangon. You can get any taxi easily anywhere in Yangon. The minimum cost is about Ks 1000 for a 10 minutes ride. The taxis do not have meters, so bargaining before taking the ride is the most suitable option.
Ferry Boat For the commuters from Dala, to cross the Yangon River, takes about 10 minutes. They steam between Pansodan Warf and Dala Warf.
Domestic Transport from Yangon
Bus There are two highway bus terminals, one known as Dagon Ayeyar Highway Bus Terminalm in Hlaing Tharyar Township, which is mainly for the buses going to the Ayeyarwaddy Division. The other terminal is Aung Mingalar Highway Bus Terminal, which is for the buses tot the cities and towns of the whole country, except the Ayeyarwaddy Division.
Boat Boat services are available for Ayeyarwaddy Delta region. Tickets are available at Lan Thit Jetty in Seikkan Township.
Train Myanma Railways operate 40 train-routes throughout the country. Tickets are available at Yangon Central Railway Station.
Plane Yangon International Airport is available for both International and Domestic Flights. Domestic flight carriers are (1) Myanma Airways (2) Air Bagan (3) Air Mandalay and (4) Yangon Airways.
Food in Yangon
There are a variety of food availabel in Yangon, since Yangon is populated with many different races of people such as Myanmars, Chinese, Indians and other ethnic groups. Restaurants are available everywhere. Chinese Food is available in China Town in Latha and Lanmadaw Township. Indian food is available in Kyauktada Township. There are some European restaurants in Yangon.
Entertainment in Yangon
Television Stations
The main TV Stations are located in Yangon. There are two local TV channels: TV Myanmar and Myawaddy with programs running from 7 am to 4 am; and from 4 pm to 11 pm. Most hotels also have satellite TV. Myawaddy was started on the 27th March, 1995. The average broadcasting hours is about 8 hours per day when it started. But now there's more, MRTV3, MRTV4 and Channel 5.
MRTV 3 - English programs are telecast for viewers in Myanmar from 9:00 A.M. to 10:00 A.M. The transmission hours for viewers from abroad are from 13:00 A.M. to 14:00 A.M., 18:00 P.M. to 19:00 P.M., and from 02:00 A.M. to 04:00 A.M. It is an English channel for oversea audience. It can be received from 126 countries and is transmitted from Thaicom-3 C Band Global beam. In addition, the Ministry have also broadcast the MRTV3 programs pm the Internet using web based video streaming system via the gateway of Myanma Posts and Telecommunications. It can be accessed on Internet through http://www.mrtv3.net.mm web site.
MRTV 4 - It was launched on (15-5-2004) like a streaming video via satellite. MRTV 4 contains non-formal education programs and other entertainment programs. But for receiving, it can be matched by MMBox (Myanmar Media Box). This transmission contains educational programs from Ministries, Myanmar movies, English movies with Myanmar subtitles, cartoon programs and other entertainment programs. The transmission time is from 7 am to 11pm daily. For more quality and convenience, MRTV 4 will soon be broadcasting with Digital Video Broadcasting Technology (DVBT) terrestrial system.
Channel 5 - Broadcasts movies in different languages such as English, Chinese, Indian etc ... but all the movies are subtitled in Myanmar language. There are great cartoon programs for the children too.
Newspaper
Three morning newspapers Myanmar Ah Lin and Kye mon in Myanmar and The New Light of Myanmar in English are published in Yangon and The Yadanabon News in Myanmar is published in Mandalay. Myanmar Times Journal (English Version) is distributed every Monday, and the Myanmar Version is distributed ever Friday. Both journals are published in Yangon. The locally published magazines in English; Golden Myanmar, Myanmar Chronicle, and Myanmar Perspective, are available in bookshops. Foreign newspapers such International Herald Tribune, as Singapore Straits Times. and some foreign magazines and periodicals are available at In-wa (Ava) Bookshop, No.232, Sule Pagoda Road.
Radio
Radio Myanmar
broadcasts English on the following schedule: 8:30 am to 9:00am 1:30 pm to 2:00 pm; and 9:00 pm to 10:30 pm. The new City FM broadcasts from 08:00 A.M. to 10:00 A.M., and from 13:00 P.M. to 17:00 P.M. daily, starting from January 1, 2002.
City FM broadcasts from 7 am in the morning till 9pm in the evening. Myanmar & English songs, Entertainment programs, Live Interviews with Movie Stars are broadcast from this Channel.
Entertainment centers
There are entertainment centers such as Cinema Halls, Theatres and Karaoke Pubs. The main Music, Video and Film productions are in downtown Yangon.
Traditional Dances
There are also Traditional Dance sections at Karaweik Hall, where locals entertain with different Myanmar dances. Sometimes, entertainment of the Myanmar Orchestra is also programmed.
Beauty Salons and Spas
Yangon is full of Beauty Salons and Spas. Beautifications of hair and body are also popular in Yangon. The Spas are mainly included in the International Hotels in Yangon.
Feature destinations

WHY MYANMAR TOUR WITH US?
We are internationally registered, well-recognized
We respond you within 12 hours
Local experts, true knowledge
Our service is personalized, customized at its best
Easy to pay online
Best customer care/policy
Committment to Satisfaction
Professional Consultancy
Unrivalled values