Myanmar – Vietnam – Cambodia – Laos – Thailand Tour – 33 Days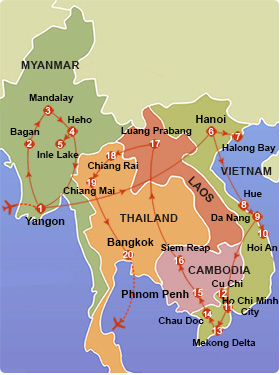 Trip duration: 33 days/ 32 nights
Start: Yangon - Finish: Bangkok
Activities: sightseeing, landscape, nature, local life, and cruise.
Tour operates: Year round/ upon request
Dates: No fixed departure dates. You may go whenever you wish
BREIF ITINERARY:
Day 1: Yangon arrival
Day 2: Yangon – Fly to Bagan (B)
Day 3: Bagan - Mt. Popa - Bagan (B)
Day 4: Bagan – Fly to Mandalay (B)
Day 5: Mandalay – Mingun (B)
Day 6: Mandalay - Heho - Nyaung Shwe Jetty – Inle (B)
Day 7: Inle Lake – Fly to Yangon (B)
Day 8: Yangon – Fly to Hanoi (B)
Day 9: Hanoi city tour (B, L)
Day 10: Hanoi – Ha Long (B, L, D)
Day 11: Ha Long – Fly to Hue (B, L)
Day 12: Hue city (B, L)
Day 13: Hue – Da Nang – Hoi An (B, L)
Day 14: Hoi An (B, L)
Day 15: Hoi An – Da Nang – Fly to Ho Chi Minh (B)
Day 16: Ho Chi Minh – Cu Chi – Ho Chi Minh (B, L)
Day 17: Ho Chi Minh – Mekong delta – Chau Doc (B, L)
Day 18: Chau Doc – Speed Boat to Phnom Penh (B)
Day 19: Phnom Penh's Past & Present (B)
Day 20: Phnom Penh – Siem Reap (B)
Day 21: Siem Reap (B)
Day 22: Bike Tour to Angkor Thom & Ta Prohm & Angkor Wat (B)
Day 23: Siem Reap – Fly to Luang Prabang (B)
Day 24: Luang Prabang & Khuangsi Waterfall (B)
Day 25: Luang Prabang – Bakbeng via Pak Ou cave (B)
Day 26: Pakbeng – Houixai (B)
Day 27: Houixai – Chiang Rai – Half day tour Chiang Rai (B)
Day 28: Chiang Rai - Full Day Long Neck Karen & Boat Trip (B, L)
Day 29: Chiang Rai – Chiang Mai (B)
Day 30: Full Day Elephant Safari & Ox-cart Ride (B, L)
Day 31: Chiang Mai – Fly to Bangkok – Half day city & temple (B)
Day 32: Bangkok – Floating market (B, L)
Day 33: Bangkok - Departure (B).
Day 01: Yangon arrival
Upon arrival at Yangon International Airport, welcome by our local guide and transfer to your hotel.
Day 02: Yangon – Fly to Bagan (B)
Morning Breakfast at Hotel. Check – out hotel and transfer to Airport. Depart for Bagan by domestic flight (schedules flight) (1 hr 20 minutes flying). Arrive Nyaung – U Airport, first visit to Nyaung-Oo morning Market to see people ways of life. The day with visits to the most significant pagodas and temples of Bagan including Shwezigon Pagoda built by King Anawrahta in the early 11th as a religious shrine. Continue visit Annada Temple a whitewashed masterpiece of Mon architecture with four standing Buddhas, and the adjacent brick monastery with the beautiful well – preserved 18th century murals. Visit to Thatbinnyu Temple know as "temples of omniscience" and dating from 1144. Continue visit to the Sulamani temple. Transfer to the hotel and leisure. Afternoon, visit one of Myanmar's most treasured handicrafts , a lacquer ware home Industry: near by Myingabar village. Continue Damayangyi Temple (the massive temple in Bagan). Experience by local Horse–cart way to Pyitthagyi Temple (15 mins). Transfer to the hotel.
Overnight in Bagan.
Day 03: Bagan - Mt. Popa - Bagan (B)
Beginning the sixth day in a local horse cart to visit the sightseeing of Bagan and its stupas before leaving and moving to Mt. Popa. Upon arrive in the Mt.Popa, we will head to the dry flat lands and stop at a small village and see how the local make treats from the juice of palm trees. A real experience for anyone!
Overnight in Bagan.
Day 04: Bagan – Fly to Mandalay (B)
Check–out hotel and transfer to the airport for flight to Mandalay. Arrive at Mandalay International Airport, welcome by our tour guide and driver then start full day sightseeing tour of Mandalay. Firstly, excursion to Amarapura: Maha Gandayone Monastery – home to several thousand young monks where you can watch the whole monastery having their meal silently, 200 years old U Bein teak bridge built in 1728 at the time when Amarapura was Royal capital. Visit traditional hand – woven silk workshop teak posts.
Continue on, excursion coach to Sagaing by passing Ava Bridge; enjoy the panoramic view at the top of the hill then visit Silversmith & Kaunghmudaw Pagoda. Drive to Mandalay and free at the leisure.
Overnight in Mandalay.
Day 05: Mandalay – Mingun (B)
Breakfast at the hotel.
Transfer to Jetty and excursion by boat on the Ayeyarwaddy River to Mingun, it takes about 1hr upper river from Mandala. Upon arrival, visit Mingun Bell: the world largest un-cracked bell, weighing 90 tons and visit Hsinbyume as well as unfinished Pagoda built as one of the world's largest cherish by king Bodaw Paya by traditional styled bullock - cart. After sightseeing, sail back to Mandalay. Visit the Shwenandaw Palace also known as Former Royal Palace, which was once king Mindon's home. Continue, we will experience the sights and sounds of Mandalay including one of the most revered religious images in Myanmar, the Mahamuni Pagoda. Stop to see stone carving and later to see gold leaf being beaten into wafer thin pieces. Visit the Shwenandaw Monastery, excellent example of a traditional wooden building and Kuthodaw Pagoda, the world's largest book made of marble. Enjoy spectacular views at sunset from Mandalay Hill there are interesting glass-studded temples. Enjoy sunset at Mandalay Hill. Transfer to hotel. Free and leisure.
Overnight in Mandalay
Day 06: Mandalay - Heho - Nyaung Shwe Jetty – Inle (B)
Morning flight to Heho. Arrive Heho and drive to Nyaungshwe, then to Nyaungshwe on the edge of the Inle Lake which is famous for its unique leg rower. Proceed to Inle lake by local boat, heading to the middle of Inle lake including Phaung Daw Oo Pagoda, the holiest religious site in Southern Shan State. Floating Market Villages & Gardens where fruit and vegetables are grown. See traditional handicrafts – silk weaving on wooden handlooms and a blacksmith shop. Stop at Ngaphechaung Monastery which is Ancient Teak Wood Monastery.
Overnight in Inle Lake.
Day 07: Inle Lake – Fly to Yangon (B)
Upon arrival, meet then transfer to the hotel. On the way, visit Mahapasana Cave (if open) where Sixth Buddhist Synod was held, Kaba Aye Pagoda (World Peace Pagoda) and Karaweik Royal Barge (A Royal floating Barge on a lake for the fantastic photo view). Check in to your hotel.
Overnight in Yangon.
Day 08: Yangon – Fly to Hanoi (B)
Your excursion begins with a tour through Yangon's colonial style city central. Visit Chaukhtatgyi Pagoda where the biggest reclining Buddha image in Myanmar (73m long) is situated; Sule Pagoda - a landmark in downtown Yangon. Stroll through the Bogyoke (Scotts) market with hundreds of foods, clothes, handicrafts and gems stores, proceed to Yangon's oldest Chinese temple and at the riverside located Botataung pagoda then visit the Shwedagon Paya- described by Somerset Maugham: "The Shwedagon rose superb, glistening with its gold, like a sudden hope in the dark night of the soul of which the mystics write, glistening against the fog and smoke of the thriving city." This massive bell-shaped stupa rises nearly 100 meters above its hill-top surroundings. Wander through this magnificent structure and its courtyards, stupas, bells, temples, and Buddha images, and see religious and secular visitors from all parts of the globe. Shwedagon has become the symbol of Myanmar.
In the afternoon, transfer to the airport for your flight to Hanoi.
Overnight in Hanoi.
Day 09: Hanoi city tour (B, L)
This morning, we start our journey to visit famous Ho Chi Minh complex comprising his Mausoleum, former residence, the impressive house on stilts and view the One Pillar Pagoda. Learn more about the historical and cultural events at the peaceful Temple of Literature, known as the Vietnam's first university since the 11th century. In the afternoon, we visit Ethnographic Museum. To finish the day off, we take an hour by cycle around the old quarter and attend the performance of the unique water puppetry. This is a must and will provide the first not to be forgotten insight into Vietnam.
Overnight in Hanoi.
Day 10: Hanoi - Ha Long Bay (B, L, D)
This morning, we depart for Halong Bay. Passing through the rich farmland of the Red River Delta, we enjoy the lush scenery and photo opportunities. We arrive at Ha Long Pier, board a traditional wooden junk and cruise through the spectacular sights of islands rising from the tranquil emerald sea. Enjoy a sumptuous on-board lunch of special seafood and explore Sung Sot Cave, one of the most beautiful caves in the bay. Witness a splendid sunset.
Dinner and overnight on boat.
Day 11: Ha Long - Fly to Hue (B, L)
Early morning coffee and tea will be served on the sundeck followed by a Tai Chi class. We continue exploring the magnificent Halong Bay. Change to a small motor or rowing boat to discover the Luon Cave and pass through a pretty entrance which leads to a tranquil round lake, surrounded by luxuriant trees and high stone walls. Upon return to the junk, a sumptuous combining Vietnamese and Western cuisine will be served. After we leave the cruise, we transfer to Bac Ninh province to visit Do temple. Drive to the airport for domestic flight to Hue.
Overnight in Hue.
Day 12: Hue city (B, L)
We visit the impressive tombs of King Minh Mang and Tu Duc together with Tu Hieu Pagoda, and then cruise on the Perfume River to see the Old Thien Mu Pagoda. In the afternoon, we visit the Forbidden Citadel and the crowded market of Dong Ba, where we can bargain for anything from souvenirs and bronze goods, to Hue sesame sweetmeat and conical poem hats.
Overnight in Hue.
Day 13: Hue – Da Nang – Hoi An (B, L)
We will drive south to the famous My Khe beach, crossing the spectacular Hai Van pass to reach Hue. On the way, we will stop to see the Cham museum and Marble Mountain. Continuing on, we will arrive Hoi An, check in the hotel and free time.
Overnight in Hoi An.
Day 14: Hoi An (B, L)
This morning, at 09:00 we will start our Hoi An Discovery tour. Hoi An seems to appeal to everyone. This charming town still retains a variety of heritage houses making a stroll around the streets a fabulous option. Guided tour of Hoi An sites includes the Quan Cong Temple, the Quang Dong Pagoda, The Phuoc Kien Pagoda, the Japanese Covered Bridge, the Tran Family Chapel, Sa Huynh Museum and Phung Hung House. Back to the hotel and free at your leisure.
Overnight in Hoi An.
Day 15: Hoi An – Da Nang – Fly to Ho Chi Minh (B)
Free at your leisure until transfer to the airport for fight to Ho Chi Minh City. Upon arrival, meet then transfer to the hotel.
Overnight in Ho Chi Minh.
Day 16: Ho Chi Minh – Cu Chi – Ho Chi Minh (B, L)
In the morning we take a half day tour of this dynamic city. First, we visit the Reunification Palace, the former palace of President Thieu and his predecessors. Today this building is a museum and venue for official receptions. Inside you can visit the private rooms of the president, the "War Room" from where the South Vietnamese forces were controlled, and, most poignantly, the room where the North Vietnamese army finally took control in 1975. Next, we visit the War Remnants Museum, Historically, the war museum as part of the Vietnam and World Peace museums system was born on Sep 4 1975 at 28 Vo Van Tan street, district 3, HCMC. Since its 30-year inception, the museum has attracted over 10 million arrivals of domestic and foreign tourists, especially, student delegations from provinces and cities nationwide. It helps reappear the then-wars, helping students well realize on the values of patriotism, struggle for peace and national liberation from forefathers. This museum includes 8 specific exhibitions and various collections of the truth of history (conspiracy and process from hostile forces for the war in Vietnam); crime evidences and war consequences; kinds of weapon and tools serving for the wars; prison (prison house system, concentration camp, torture, maltreatment, corporal mutilation and spiritual oppression against political prisoners).
We also stop at the Notre Dame Cathedral and Old Post Office. The post office, built between 1877 and 1883, is an excellent example of classic French colonial architecture.
Lunch will be served at a local Vietnamese restaurant.
In the afternoon we drive 70 kilometers North West to explore the underground tunnels in Cu Chi which system had been created long time back, from 1948 to assist Viet Minh in the combat with French. It was continuing built over 25 years later. It was an underground city with living areas, kitchens, storage, weapons factories, field hospitals, command centers. In places, it was housed up to 10,000 people who virtually lived underground for years… getting married, giving birth. During the American War the entire area of Cu Chi was designated a free fire zone and was heavily bombarded. From 1988, two sections of tunnels have been open for visitors. You may even have a chance to crawl through the tunnels yourself. We return to Saigon in the late afternoon.
Overnight in Ho Chi Minh.
Day 17: Ho Chi Minh – Mekong delta – Chau Doc (B, L)
08.30 we start the trip from Ho Chi Minh City to Vietnam's rice basket, the Mekong Delta. We will pass through idyllic, rural scenes until we arrive at My Tho, a peaceful town on the bank of the Mekong River, where we will visit the Vinh Trang Pagoda. Next we will have a boat ride on the Mekong, visit local homes and orchards, a coconut candy workshop, a honeybee farm, take a sampan ride on palm-shaded creeks, try a taste of seasonal fruit and honey tea and enjoy a performance of traditional Southern singing.
Continue on, we transfer to Chau Doc.
Overnight in Chau Doc.
Day 18: Chau Doc – Speed Boat to Phnom Penh (B)
Early morning take a speed boat to Phnom Penh. Upon arrival, you would be met and transferred to hotel. Overnight in Phnom Penh.
Day 19: Phnom Penh's Past & Present (B)
Visit to the Royal Palace compound build in 1866 by the Predecessors of King Norodom, is the most conspicuous feature and also one of impressive colorful Khmer-style Palaces. Nearside the Royal Palace is Silver Pagoda (The Emerald Buddha temple), display plenty of Buddha Statues that were decorated and made by diamond, emerald, gold and silver. Travelers will proceed to visit Independence Monument which was constructed in 1954 after Cambodian took their country back from French colony; continuing visit to National Museum, the distinctive red building with a beautiful Khmer architecture was built since 1917 and contains more than 5000 art objects made of sandstone, bronze, silver, copper, wood and others.
This afternoon, we will learn about the dark side of Cambodia – Its more recent turbulent and harrowing history. Initially you visit the Toul Sleng Genocide Museum (also known as S21), ironically a former school, located in a quiet Phnom Penh suburb, this was the infamous Khmer Rouge prison / torture centre. Once you have gained an initial insight of the brutality of the Khmer Rouge regime you will be driven 15km from Phnom Penh to visit the 'Killing Fields'. This is where Toul Sleng prisoners were forcibly marched and then executed; it is now a memorial site located in a beautiful tranquil setting.
We enjoy our cyclo ride along the riverside. This laidback tour gives us a different perspective of the streets and sights of the city. We will enjoy a cruise for view sunset on the Mekong and Tonle Sap River (1 hour). Situated at the "Four Arms" where the Mekong meets the Tonle Sap River before splitting into two branches, Phnom Penh offers the ideal location to discover the mighty Mekong. Board a nicely restored wooden boat for a day cruise, enjoy the unspoiled landscapes along each bank and visit the traditional villages with their old pagodas on the islands.
Stay overnight in Phnom Penh.
Day 20: Phnom Penh – Siem Reap (B)
Today you travel by road from Phnom Penh to Siem Reap. On route you will have a chance to stop on the way to take photo and witness the everyday lives of Cambodians as you pass through interesting provincial towns, bucolic villages, and delightful scenery. This is no 'freeway dash' as you will often slow down to let cows and water buffalo wander across the road, pass horse drawn carriages, and school kids walking and cycling to/from school.
We may choose to stop at Skoun, also known as 'Spider vile' due to the deep fried tarantula that is the local delicacy, are you adventurous enough to try one?
On route you may wish to stop off in Kompong Kdei, to look at Spean Pratos – an ancient Angkorian bridge.
We continue our journey to one of the floating communities of Siem Reap province, called Kompong Khleang. A world away from the touristic Chong Kneas floating villages, this largest stilted village in Cambodia sees few visitors. Our visit includes a boat trip to see villages with houses that stand about 8 to10meters in the air in dry season or sit level with the water in the wet. Visit the floating village which includes Vietnamese, Cambodians and few Chinese families. A little village walk, a school and pagoda visit all provide excellent opportunities for pictures.
Upon arrival in Siem Reap you will check-in to your hotel after which you are free at leisure for the rest of the evening.
Day 21: Siem Reap (B)
Rise early to beat the crowds at the photogenic of Ta Prohm "Tomb Raider" fame. Ta Prohm has been abandoned to the elements, a reminder that while empires rise and fall, the riotous power of nature marches on, oblivious to the dramas of human history. Left as it was 'discovered' by French explorer Henri Mouhout in 1860, the tentacle-like tree roots here are slowly strangling the surviving stones, man first conquering nature to create, nature later conquering man to destroy. We visit Ta Prohm early to avoid the masses of crowds and provide a unique visit in this incredible temple.
We head further out through rural countryside to the small but beautiful temple of Banteay Srei. This temple is largely built of pink sandstone; a harder rock that can be more elaborately carved and better survives the rigors of time. This is an opportunity to capture some good photographs of the clear and detailed carvings. On the way back, cycle on the main road to visit Landmine Museum of Mr. Akira. Mr. Ra is dedicated to clearing the Cambodian countryside of landmines laid during the years of conflict and relies entirely on visitors' donation to fund his work. Not be missed is Banteay Samre: Its rose-colored sandstone walls are decorated with carvings and bas-reliefs, which are among the most accomplished Angkor has to offer.
For the later afternoon we head back into main Angkor Park and journey to Tasom. Tasom offers some beautiful photo spots, especially the rear entrance where tree roots adorn the gateway.
Day 22: Bike Tour to Angkor Thom & Ta Prohm & Angkor Wat (B)
We hop on our bike to world heritage areas on the roads less travelled. Ride among the jungle passing local village and local shop. It's a very special and acting day as you will explore some of Angkor's most beautiful temples. You will visit the West Gate of Angkor Thom – undiscovered by mass tourist.
- The ancient capital of Angkor Thom (12th century)
- See the South Gate, Bayon Temple – unique for its 54 towers decorated with over 200 smiling faces of Avolokitesvara
- Baphuon temple lying just to the north of Bayon a pyramidal representation of mythical Mont Meru
- We step to see our old palace as Phimeankas temple in huge complex that was used for our king in the past time.
- Then Elephant terrace is platform for king and officer viewed show and people meeting.
- Preah Palilay was is older than Angkor Thom was nearby, deeply in forest and on path back You see monk sprinkle water to people.
We continue to the famous temple: Angkor Wat. Angkor Wat is a World Heritage Site since 1992, famous for its beauty and splendor. Angkor Wat features the longest continuous bas-relief in the world, which runs along the outer gallery walls and narrates stories from Hindu mythology.
Then enjoy sunset drinks with a leisurely boat ride on the moat of Angkor Thom and view hidden elements of the ancient Khmer water systems, relaxing and accompanied by the sound of bird song.
Day 23: Siem Reap – Fly to Luang Prabang (B)
Transfer to Siem Reap airport for flight to Luang Prabang.
Arrive Luang Prabang Int'l Airport by Int'l flight. Meet and greet at airport and welcomed by our tour guide then transfer to the hotel.
Overnight in Luang Prabang.
Day 24: Luang Prabang & Khuangsi Waterfall (B)
An optional early start gives you the fantastic opportunity to participate in the daily morning rituals of saffron-clad monks collecting offerings of Alms (ubiquitous sticky rice) from the faithful residents. This tradition is very unique in Laos, being the only Buddhist nation still preserving the procession
Breakfast, we visit the National Museum that was the former Royal Palace displays a lovely collection of the artefacts reflecting the richness of Lao culture dating from the days of the early kings right through the last sovereign and the city's oldest temple of Wat Sene and the magnificent Wat Xiengthong with its roofs sweeping low to the ground, which represents classical Laotian architecture
We continue our excursion toward Khouangsi Waterfall, en route, we visit local villages of Lao ethnic minority groups at Ban Ouay, Hmong Village, Ban Ou, Laoloum Village and Ban Thapene, Khmu Village, then drive to the beautiful Khouangsi Waterfall where you can splash around in the turquoise pools or walk along the forest trails. The Khouangsi Waterfall setting really illustrates paradise. We return to Luang Prabang by late afternoon and continue to Ban Xangkhong, a village well known for silk hand weaving and for traditional Saa Paper making. We return to the city by late evening then climb up to the top of Mount Phousi for an enjoyable exploration of the sacred, gilded stupa as well as a panoramic view of the city at sunset and the Mekong River. The tour ends after a visit to the famous Night Market, where you can find a lovely selection of handmade textiles made by local and hill tribe people surrounding Luang Prabang. Overnight in Luang Prabang
Day 25: Luang Prabang – Bakbeng via Pak Ou cave (B)
Heading out of the town, we take a cruise upstream on the Mekong River, which also gives us a beautiful view of the tranquil countryside as well as an interesting visit to the mysterious of Pak Ou Caves, two linked caves crammed with thousands of gold lacquered Buddha statues of various shapes and sizes left by pilgrims. Along the way, we stop at the village of Ban Xanghai, where they make local rice wine. We then continue our boat trip to the atmospheric riverside town of Pakbeng. The Mekong was once the only major transport route in the country, Pakbeng, being the halfway point on the Mekong River between Luang Prabang and HoueiSay, developed as an overnight stop for many traders travelling along the river. This scenic and authentic river cruise has been described as a once in a lifetime experience.
We will reside in Pakbeng overnight.
Day 26: Pakbeng – Houixai (B)
After breakfast, we will visit the local market where many hill tribe people converge from the outlying valleys and hillsides to sell their goods and buy provisions.
Upon leaving Pakbeng, we say good bye our tour guide and driver and welcomed by a new tour guide on the boat then start our journey toward Houei Say
Arrival Houixai, cross to the border to Thailand then check in to your hotel near the border.
Overnight at your hotel.
Day 27: Houixai – Chiang Rai – Half day tour Chiang Rai (B)
Houei Say surrounding is the common home of 34 ethnic minorities. Specially, the Lu hill tribe is the particular group that we will visit after breakfast. Then we drive shortly to Chiang Khong, Thailand and say goodbye at the Lao-Thai border for Chiang Rai.
In the afternoon, visit the Wat Phra Kaew, said to have been the original place where the Emerald Buddha was found, now venerated in the Bangkok's Wat Phra Kaew Chapel. Proceed to Wat Phra Singha that is a fine example of Lanna Thai religious architecture. Continue to the Ob Khum Museum Lanna Heritage Conservation Centre, which is known to embrace a collection of objects from the areas affiliated with the Lanna kingdom including ritual objects and objects used at the Royal courts. If time permits, we also tour the Wat Rong Khun. Unlike the many temples with centuries of history behind them, Wat Rong Khun (also known as the White temple) was only built recently. Construction began in 1998 and is expected to take seven generations to fulfil the design and vision of noted local artist Chalermchai Kositpipat who is overseeing the project. Visit the most popular fresh market of the Chiang Rai town and return to the hotel. A perfect half day to get to know the city!
Overnight in Chiang Rai.
Day 28: Chiang Rai - Full Day Long Neck Karen & Boat Trip (B, L)
Depart from your clients' hotel in Chiang Rai to make a visit to the world-renowned Long-necked Karen hill tribe village at Ya Pha, located in a small settlement near Chiang Rai and a local Lisu settlement at Bann Pong Pa Kam. The women at Ya Pha wear brass rings on their necks and limbs. The number of the rings increases according to their ages. Their shoulder blades are pressed lower and lower while their necks seem to be longer and longer. The Karen themselves are not one single group but rather a loose mix of closely related tribes. Among the smallest of the Karen tribes in Thailand are the Karen Padaung. Lunch is included at a local restaurant. After lunch, we sail with our motor boat to admire the Lahu Hill tribe village at Bann Pha Yai, the only village around this region of Northern Thailand with Lahu descendants. Lunch is included at a local restaurant en route. Natural hot springs have been discovered in several areas in Thailand – especially in the north and southern part of Thailand. Some of them have been developed into tourist attractions; some even offer health packages combining mineral baths, Thai traditional massage and fitness facilities. We will make a stop and explain the history about these natural phenomenons.
You arrive in the afternoon, back at your hotel in Chiang Rai.
Day 29: Chiang Rai – Chiang Mai (B)
Breakfast at the hotel then transfer to Chiang Mai, stop on the way to take photos and local people.
Arrival Chiang Mai in the afternoon, check-in to the hotel then free at your leisure.
Overnight in Chiang Mai.
Day 30: Full Day Elephant Safari & Ox-cart Ride (B, L)
After breakfast, we take a full day tour to experience the beauty of the north. Our first stop will be made at a beautiful orchid nursery & next door butterfly farm in the Mae Rim District. Then, we continue our journey through the hilly, and forest area, just north of the city to see the elephants at work at Mae Taman camp a lovely place behind the hills. Here, we will give you the chance to make a journey through the forest on the back of these gentle animals; you will be crossing the river and get up and close with the jungle (approximately half an hour). The ox and cart is another traditional means of transportation and you will experience this; a 30-minutes' ox-drawn cart brings you at a leisurely pace past rural villages. This journey gives you a direct insight into of how the inhabitants life and dwell in the northern part of Thailand. Lunch will be provided during the day. The afternoon is reserved for a 5 kilometers' long bamboo rafting along the beautiful Mae Taeng River to the raft station before heading back into Chiangmai.
Overnight in Chiang Mai.
Day 31: Chiang Mai – Fly to Bangkok – Half day city & temple (B)
After breakfast, transfer to the airport for flight to Bangkok and transfer to the hotel.
In the afternoon, take a half day city & temple tour.
One of the most popular tours, bringing you along 3 of the most stunning temples, Bangkok has to offer! It features the "Wat Traimit" with its 5, 5, ton heavy Golden Buddha Image, the Wat Chetuporn (commonly known as the Wat Po), that boasts the over 45-meters long Reclining Buddha. Wat Pho is also regarded as the first centre of public education and is sometimes called 'Thailand's first university'. Mural paintings, inscriptions, and statues found in the temple-educated people on varied subjects such as literature, warfare, archaeology, astronomy, geology, meditation and to be considered, home of the Thai traditional massage. We end the tour with a visit to the Wat Benchamaborpit (also known as the Marble Temple): a representation of an outstanding success of marriage between Italian Carrara marble and classical Thai architecture. Especially for those interested to know a bit more about Buddhism and its history, combined with the always-busy city life.
Overnight in Bangkok.
Day 32: Bangkok – Floating market (B, L)
Full Day Damnoensaduak Floating Market with Lunch at Rose Garden follows by Thai Cultural Show
This most, interesting full day tour takes you to the rural yet world-famous floating market of Damnern Saduak, situated around 100 kilometers west of Bangkok.
The tour includes a visit to Nakorn Pathom; site of the highest Chedi in Thailand called "Phra Pathom Chedi, which is the largest pagoda in Southeast Asia.
An excellent international buffet lunch will be served at the picturesque Rose Garden Aprime Country Resort. Afterwards, you will attend the Thai village show at the Thai Village, giving you a short introduction into the many customs of Thai life. The show includes the colorful Buddhist ordination procession, an elegant fingernail dance, a Thai boxing demonstration, Hill Tribe dance performances, sword-fighting, elephants at work, charming folk dances and a traditional Thai wedding ceremony and much more.
Overnight in Bangkok.
Day 33: Bangkok - Departure (B)
Breakfast at the hotel until transfer to the airport for your departure flight. End of the trip.
What is included:
28 nights hotel accommodation at noted or similar
01 night on the Boat in Ha Long Bay.
Domestic flight in Myanmar: Yangon – Bagan, Bagan – Mandalay, Mandalay – Heho, Heho – Yangon.
Meals as listed in the itinerary: B - Breakfast, L - Lunch, D – Dinner
Boat ticket Chau Doc – Phom Penh.
Transport with air - conditioned vehicles through the tour.
Boat cruise as stated
All entrance fees as stated.
Local English speaking guide (other language upon request)
Cool mineral water and tower during the tours.
Special gift from Ciao Asia travel
Vietnamese visa approval letter
What is excluded:
International flight
Flights between these countries, domestic flight Vietnam and in Thailand.
Meals and drinks other than specified.
Visa fee at the airports
Individual expenses.
Contact us
You May Also Like...
Customer Type Tours
Feature destinations


Hi Giang, We just got back from 2 weeks in Thailand and Myanmar. I just wanted to let you know that everything in Myanmar was wonderful. Your arrangements were among the best we have ever experienced on a tour. The guides were great. They met us on time at airports and were very friendly. I would especially recommend the guide in Bagan- San- who was extremely knowledgeable about the temples and history. Also, the hotels were superb- Bagan and Inle Lake were truly beautiful. I would definitely you use again if we return to Asia.
Thank you,

Mark Alpert
Monday, July 2, 2018
WHY MYANMAR TOUR WITH US?
We are internationally registered, well-recognized
We respond you within 12 hours
Local experts, true knowledge
Our service is personalized, customized at its best
Easy to pay online
Best customer care/policy
Committment to Satisfaction
Professional Consultancy
Unrivalled values