Myanmar and Thailand Highlights Tour – 15 Days

Starts for a 15 days trip from Yangon, a former capital of Myanmar, continue on visit Bagan - the most stunning archeological site of 2000 pagodas, Mandalay - the city of the last Myanmar Kings and Inle Lake with its typical floating gardens then moving to Thailand, visit dynamic city Bangkok, experience the beauty of the north Thailand – Chiang Mai and relax at a beautiful beach - Phuket. This trip will bring you unforgettable memories about Burma and Thailand.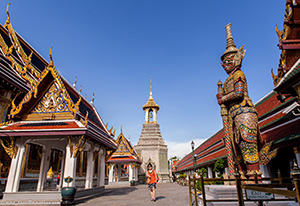 Trip duration: 15 days 14 nights
Start: Yangon - Finish: Phu Ket
Flights: 04 domestic flights
Activities: sightseeing, local life, cruise and beach.
Tour operates: Year round/ upon request
Dates: No fixed departure dates. You may go whenever you wish
BRIEF ITINERARY:
Day 01: Arrive in Yangon
Day 02: Yangon - Bagan (B)
Day 03: Bagan (B)
Day 04: Bagan - Mandalay (B)
Day 05: Mandalay - Heho - Nyaung Shwe - Inle Lake (B)
Day 06: Inle Lake - Heho - Yangon (B)
Day 07: Yangon – Bangkok (B)
Day 08: Bangkok half day city & Temple - Evening Calypso Cabaret (B, D)
Day 09: Floating Market & Rose Garden (B)
Day 10: Bangkok – Chiang Mai (B/ Kantoke Dinner)
Day 11: Full Day Elephant Safari & Ox-cart Ride (B/ L)
Day 12: Chiang Mai – Phu Ket (B)
Day 13: Phu Ket – Full day Phi Phi island tour by cruiser (B)
Day 14: Phu Ket free time (B)
Day 15: Phu Ket - Departure (B)
Day 01: Arrive in Yangon
Arrival at Yangon International Airport. Welcome by our well-experienced English speaking tour guide. Transfer to Hotel.
Visit old colonial-style city center then stop at the Independence Obelisk with City Hall and visit 2000 years old Sule Pagoda.
Overnight stay at hotel in Yangon.
Day 02: Yangon - Bagan (B)
Breakfast at hotel. Take the early morning flight to Bagan where you will spend time for exploring the architectural masterpieces of this amazing ancient town, living treasure house of Buddhist architectural beauties. Bagan, one of Asia's most popular archaeological destinations and one out of two most pre-eminent religious old cities in South East Asia. The sightseeing starts with a visit to most distinctive pagodas such as Shwezigon Pagoda – the holiest one believed to be enshrined with Buddha tooth and hair; Htilominlo Temple- the largest temples of Bagan, Gubyaukgyi Temple (Wetkyiinn village) – the 13th century 'cave temple' with fine frescoes of scenes from Jakatas; Kyansittha Umin temple.
In the afternoon, Seinnyet Nyima Ahma pagoda, Manuha, Nanbaya, Mingalazedi Pagoda, Myinkabar Gubyaukgyi Temple- well known for its wall painting depicting scenes from the Jataka. Stop at one of the many workshops of lacquers. Enjoy sunset over bagan from Shwesandaw Pagoda.
Overnight stay at hotel in Bagan.
Day 03: Bagan (B)
After Breakfast, visit Nyaung U Market – a typical local market; followed by a carriage ride to visit the Reclining Buddha Shinpin Thalyaung, Dhamanyangyi Temple- built by King Narathu in 12th century which displayed the finest brickwork in Bagan, Thatbyinnyu Temple- the highest building on the Bagan plain, Ananda Temple - King Kyansittha's masterpiece and the crowning achievement of the early style temple of architecture. In the afternoon, visit the village Minnanthu, Sulamani Temple and Gawdawpalin. We admire to take a boat ride along the Ayeyarwaddy river to discover the local life and view the sunset.
Overnight stay at hotel in Bagan.
Day 04: Bagan - Mandalay (B)
After breakfast, transfer to the airport for flight to Mandalay. Pick-up and transfer to the city, on the way visit the Amarapura 200 year's old U Bein teak bridge which is built in 1728 at the time when Amarapura was Royal capital and visit the traditional hand – woven silk workshop teak posts. Continue to Mandalay through varied agricultural landscapes and villages.
Visit one of the most revered religious images in Myanmar, the Mahamuni Pagoda. Stop to see stone carving and gold leaf being beaten into wafer thin pieces. Visit the Shwenandaw Palace also known as Former Royal Palace which was once king Mindon's home. Visit to the famous local market "Zay –Cho" located in the down town area of Mandalay to see people ways of life. Proceed to the foot of Mandalay Hill and then visit to up area. Enjoy spectacular views at sunset from Mandalay Hill.
Overnight stay at hotel in Mandalay.
Day 05: Mandalay - Heho - Nyaung Shwe - Inle Lake (B)
In the morning, fly to Heho. Arrive Heho and drive to Nyaungshwe, then to Nyaungshwe on the edge of the Inle Lake which is famous for its unique leg rower. Proceed to Inle lake by local boat, heading to the middle of Inle lake including Phaung Daw Oo Pagoda, the holiest religious site in Southern Shan State. Floating Market Villages & Gardens where fruit and vegetables are grown. See traditional handicrafts – silk weaving on wooden handlooms and a blacksmith shop. Stop at Ngaphechaung Monastery which is famous for its (Jumping - Cats Show).
Overnight stay at floating hotel in Inle Lake.
Day 06: Inle Lake - Heho - Yangon (B)
In the morning, transfer to Heho airport for flight to Yangon. On the way to Hotel, visit Mahapasana Cave (if open) where Sixth Buddhist Synod was held, Kaba Aye Pagoda (World Peace Pagoda) and Karaweik Royal Barge (A royal floating Barge on a lake for the fantastic photo view). Check in to your hotel. Afternoon shopping to the Bogyoke Market (Scott's market) with hundreds of food, clothes, handicrafts and gems store.
In the evening, visit Chauk Htat Gyi Pagoda to see a huge reclining Buddha image, the Shwedagon Pagoda - one of the world's most spectacular monuments. Enjoy sunset at Pagoda. Drive back to hotel and leisure.
Overnight stay at hotel in Yangon.
Day 07: Yangon – Bangkok (B)
Free time at leisure until transfer to airport for flight to Bangkok.
Upon arrival at the airport in Bangkok, meet then transfer to your hotel.
Overnight stay at hotel in Bangkok.
Day 08: Bangkok half day city & Temple - Evening Calypso Cabaret (B, D)
After breakfast, take a half Day City & Temples - One of the most popular tours, bringing you along 3 of the most stunning temples, Bangkok has to offer! It features the "Wat Traimit" with its 5, 5, ton heavy Golden Buddha Image, the Wat Chetuporn (commonly known as the Wat Po), that boasts the over 45-meters long Reclining Buddha. Wat Pho is also regarded as the first centre of public education and is sometimes called 'Thailand's first university'. Mural paintings, inscriptions, and statues found in the temple-educated people on varied subjects such as literature, warfare, archaeology, astronomy, geology, meditation and to be considered, home of the Thai traditional massage. We end the tour with a visit to the Wat Benchamaborpit (also known as the Marble Temple): a representation of an outstanding success of marriage between Italian Carrara marble and classical Thai architecture. Especially for those interested to know a bit more about Buddhism and its history, combined with the always-busy city life.
End your day with an entertaining cabaret show, performed by Bangkok's most beautiful transvestites and transsexuals. There, you will enjoy and be amazed by their talents, as well as by their feminine looks. The show contains a variety of glitter and glamour, something you will never see anywhere else! The theatre (non- smoking) is located at the basement of the Asia Hotel and can accommodate maximum 350 visitors, each of the 2 daily shows. After 1 hour and 15 minutes of one of the most fabulous acting and performances in Bangkok, you want to see it again!
3 hours (19:00 hrs – 22:00 hrs)
Buffet Dinner
Overnight stay at hotel in Bangkok.
Day 09: Floating Market & Rose Garden (B)
Full Day Damnoensaduak Floating Market with Lunch at Rose Garden follows by Thai Cultural Show.
This most, transfer to the rural yet world-famous floating market of Damnern Saduak, situated around 100 kilometers west of Bangkok.
The tour includes a visit to Nakorn Pathom; site of the highest Chedi in Thailand called "Phra Pathom Chedi, which is the largest pagoda in Southeast Asia.
An excellent international buffet lunch will be served at the picturesque Rose Garden Aprime Country Resort. Afterwards, attend the Thai village show at the Thai Village, giving a short introduction into the many customs of Thai life. The show includes the colorful Buddhist ordination procession, an elegant fingernail dance, a Thai boxing demonstration, Hill Tribe dance performances, sword-fighting, elephants at work, charming folk dances and a traditional Thai wedding ceremony and much more.
Overnight stay at hotel in Bangkok.
Day 10: Bangkok – Chiang Mai (B/ Kantoke Dinner)
Free and leisure until transfer to the airport for flight to Chiang Mai. After arrival transfer to hotel in Chiang Mai.
In the evening, enjoy Kantoke Dinner - One of the most famous northern foods in Chiangmai is the Kanthoke dinner. Diners will sit on and share a succession of tasty dishes, accompanied with sticky rice. All guests will enjoy a superb Northern Thai Dinner, consisting of small bowl dishes while local dancers, dressed in traditional clentertain your with the Sword Dance, Candle dance, Fingernail dance and The Rumwong where guests are invited to participate. After the dinner, there will be a special hill tribe show featuring the several of Northern Thailand. This is an excellent opportunity to see a number of tribes in rotation and to differences in appearance and costume.
Overnight stay at hotel in Chiang Mai.
Day 11: Full Day Elephant Safari & Ox-cart Ride (B/ L)
After breakfast, we take a full day tour to experience the beauty of the north. Our first stop will be made at a beautiful orchid nursery & next door butterfly farm in the Mae Rim District. Then, we continue our journey through the hilly, and forest area, just north of the city to see the elephants at work at Mae Taman camp a lovely place behind the hills. Here, we will give you the chance to make a journey through the forest on the back of these gentle animals; you will be crossing the river and get up and close with the jungle (approximately half an hour). The ox and cart is another traditional means of transportation and you will experience this; a 30-minutes' ox-drawn cart brings you at a leisurely pace past rural villages. This journey gives you a direct insight into of how the inhabitants life and dwell in the northern part of Thailand. Lunch will be provided during the day. The afternoon is reserved for a 5 kilometers' long bamboo rafting along the beautiful Mae Taeng River to the raft station before heading back into Chiangmai.
Overnight stay at hotel in Chiang Mai.
Day 12: Chiang Mai – Phu Ket (B)
In the morning, we take a half day tour of Chiang Mai.
This amazing sightseeing tour takes guests around the famous city for an up-close and personal look at some of its most notable temples, as well as stops at its old city walls, gates and moat, and the local market and Tapae Gate. Highlight of this trip include Wat Chiang Man, the city's oldest temple and famed or a Chedi supported by rows of elephantine buttresses; Wat Phrasing home of the beautiful Lai Kham chapel with its exquisite woodcarving and northern style murals; Wat Chedi Luang and its enormous
Pagoda (which was partially destroyed by an earthquake in 1545); and Wat Suan Dok, which dates back to the 14th century when it served as the pleasure gardens to the Thai monarchy. Nowadays it houses several white Chedi's, containing the ashes of Chiang Mai's former Royal family. The last temple also houses one of the most famous Monk Schools in the whole of Chiang Mai.
In the afternoon, transfer to the airport for your flight to Phu Ket. Upon arrival at Phu Ket airport, welcomed by our tour guide and driver then transfer to the hotel.
Overnight stay at hotel in Phu Ket.
Day 13: Phu Ket – Full day Phi Phi island tour by cruiser (B)
This amazing adventure starts in the early morning, travel by Cruiser Boat from the Pier to the scenic Phi Phi Islands (Phi Phi Don and Phi Phi Le), located about 45 kilometers from Phuket. Sightseeing excursions include Loh Sa Mah and Phi Phi Ley cove as well as Maya Bay, where the 2000 film "The Beach" (starring Leonardo DiCaprio and Tilda Swinton) was filmed. A chance to observe the majestic undersea world is also available for people who enjoy snorkeling. If you are more the exploring type and Phi Phi's natural beauty is not enough, there is plenty to do on and off the island. Phi Phi Ley is home to the Viking Cave, a large limestone cavern, where ancient rock paintings can be found. Thought to resemble Viking ships – hence the name of the cave – they are predicted to be 3000 to 4000 years old. This is a perfect spot to experience the colors and rhythms of this tropical hideaway.
Return to Phu Ket and free time at your leisure.
Overnight stay at hotel in Phu Ket.
Day 14: Phu Ket free time (B)
Full day is free at your leisure to relax on the beach. No services provide. Only breakfast and accommodation has been booked in advance.
Overnight stay at hotel in Phu Ket.
Day 15: Phu Ket - Departure (B)
After breakfast, free time until transfer to Phu Ket airport for your departure flight. End of services.
What is included:
Transportation in private air-conditioned vehicle
10 night hotel accommodation as noted
Domestic Air Tickets: Yangon – Bagan/ Bagan – Mandalay/ Mandalay – Inle Lake/ Inle Lake – Yangon
Boat trip as stated in above sights
Local English speaking guide
Admission fee to indicated sights
Meals as listed in the itinerary: B - Breakfast, L – Lunch
Gov't tax and service charge
Cool mineral water and tower during the tours
What is excluded:
Visa to Myanmar, Thailand
Int'l airport departure tax
Flight ticket: Yangon – Bangkok/ Bangkok – Chiang Mai/ Chiang Mai – Phu Ket
Travel Insurance in all kinds
Meal is not mentioned in the itinerary
Single room (quoted separately)
Domestic flight with airport tax
Tip, drinks, personal expenses and others
Contact us
You May Also Like...
Customer Type Tours
Feature destinations


Hi Giang, We just got back from 2 weeks in Thailand and Myanmar. I just wanted to let you know that everything in Myanmar was wonderful. Your arrangements were among the best we have ever experienced on a tour. The guides were great. They met us on time at airports and were very friendly. I would especially recommend the guide in Bagan- San- who was extremely knowledgeable about the temples and history. Also, the hotels were superb- Bagan and Inle Lake were truly beautiful. I would definitely you use again if we return to Asia.
Thank you,

Mark Alpert
Monday, July 2, 2018
WHY MYANMAR TOUR WITH US?
We are internationally registered, well-recognized
We respond you within 12 hours
Local experts, true knowledge
Our service is personalized, customized at its best
Easy to pay online
Best customer care/policy
Committment to Satisfaction
Professional Consultancy
Unrivalled values