About us
Myanmar Tours dot Us is a travel portal belonging to Ciao Asia Travel Co., Ltd, one of the leading local tour operators in Indochina with its head office in Hanoi, Vietnam. We also have branches in Myanmar (Burma), Cambodia, Laos and Thailand. In addition to a professional tour guide management & service subsidiary, our size means competitive prices, high-level quality assurance, superior customer service, and the most up-to-date local information. Since the beginning, the company has established good working relationships with local suppliers, transportation agents, hotels across the regions that we are in good position to have best offer from them.
We are a team of professional, licensed tour guides who have a mission to provide the best service for a private and group tour around Myanmar. We have also expended our destination coverage to our neighboring countries: Vietnam, Laos, Thailand and Cambodia. We offer tour packages, customized trips covering regional flights, transfers, hotel bookings and car rentals. We provide much more than a regular tours of Myanmar 's cities, villages, landscapes and cultural treasures – our goal is to give you a truly memorable travel experience from the moment that you send us an email or communicate with us in any way.
Myanmar Tours Us is committed to providing fine quality of service in any aspect of our products. We consolidate our position in the travel industry with a comprehensive range of programs and our friendly environment operation reinforces our commitment to the sustainable development.
Myanmar Tours dot Us, which is one of the online travel portals for the English speaking market, is operated by the team of professional travel consultants at Myanmar Tours. The website "Myanmar Tours dot Us" has come to mean a reliable company. We have provided thousands of customers with their unforgettable "Myanmar Experience".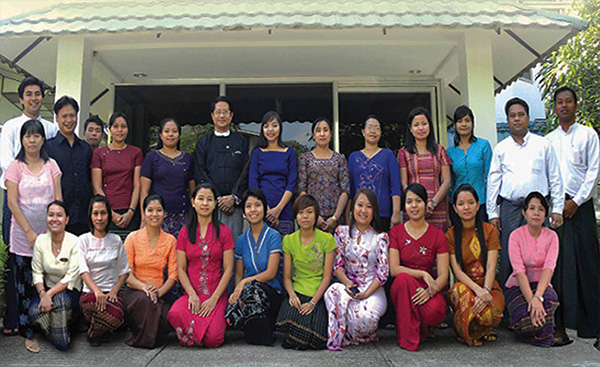 Myanmar Office Team

Vietnam Office Team

Cambodia Office Team
YANGON OFFICE – MYANMAR
Add: No 24/26 (5-A) Thukha Street, Myaynigone North, Sanchaung Township, Yangon, Myanmar
Tel : + 95 1 667 342/ 650 206/710 350 – Fax: + 95 1 666 155
Email: info@myanmartours.us – https://www.myanmartours.us
HANOI OFFICE – VIETNAM
Add: No 41 Vu Pham Ham Street, Cau Giay Dist, Hanoi, Vietnam.
Tel: +84 2432484650 / 2432484651  – Fax: +84 24 62694579
HOTLINE: +84 985 728 790 – Email: info@tourtovietnam.net
CAMBODIA OFFICE
PHNOM PENH OFFICE
Add: #AC04, Street 55, Borei Sopheak Mongkul, Chroy Changva, Phnom Penh, Cambodia.
Tel: +855 23 426-456, 012 608-108
Fax: +855 23 432-242
Email: info@cambodiatravel.us – Website: www.cambodiatravel.us
SIEM REAP OFFICE
Add: No 28, Road 06, Svay Dangkum, Siem Reap Province, Cambodia
Tel: +855 63 963-449, 012 700-930
Fax: +855 63 9636-448
Email: info@cambodiatravel.us – Website: www.cambodiatravel.us
VIENTIANE OFFICE – LAOS
Add: No. 158/Setthathirath, Vientiane, Laos
Tel : 856-20 250942/ 215906 – Fax: 856-20 216150/ 250942
Email: info@laostours.us – www.laostours.us
Feature destinations

WHY MYANMAR TOUR WITH US?
We are internationally registered, well-recognized
We respond you within 12 hours
Local experts, true knowledge
Our service is personalized, customized at its best
Easy to pay online
Best customer care/policy
Committment to Satisfaction
Professional Consultancy
Unrivalled values