Dolphin Watching – Cruise Package – 2 Days

A short brife of Irrawaddy Dolphin
This species is fairly common in the Ayeyawaddy (Irrawaddy) river between Mandalay and Bhamo, coastal region and delta area. The total of 65 to 75 dolphins can be seen between Mandalay to Bhamo and these dolphins are protected by Department of Fisheries in Myanmar. Since 800 A.D the period of Tan Dynasty in China, Pyu (ancestor of Myanmar) has traded and they called it river pig. But Irrawady Dolphin was introduced by Anderson in -1879 A-D near Bhamo. A slow swimmer, the Irrawaddy Dolphin (Orcaella brevirostris) with a total length of 200-250cm and a high rounded forehead without beak and the color of the adults is black and the underside grayish. Cooperative fishing between Irrawaddy dolphin and fishermen is a kind of fishing in which the dolphin help fishermen by driving fish towards fishing canoes.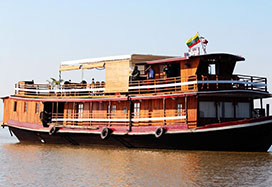 Tour Duration: 02 days / 01 night
Dates: No fixed departure dates. You may go whenever you wish. The best time to see the Dolphins are started from October – May
Starts/Ends: Mandalay city
BREIF ITINERRAY:
Day 01: Mandalay – Mingun - Sein Pankhone (L/D)
Day 02: Seinpankhone to Mandalay (B)
Day 01: Mandalay – Mingun - Sein Pankhone (L/D)
08.00: After your breakfast, we transfer to Mingun jetty, start sightseeing tour by boat to visit the Pathodawgyi pagoda which was built by King Bagyidaw. Continue on, proceed to the largest ringing bell in the world weight about 90 tons (Mingun Bell) then see the Hsinbyume pagoda which is the most attractive pagoda in Mingun built by king of Bagyidaw the grandson of King Bodawpaya. After that we go back to the boat and have lunch on board then continue to cruise to the north of Mingun to see Seinpankhone village, Seinpankhone village is 30 km to the north of Mandalay where the Dolphins are live around there. Overnight at Seinpankhone village.
Day 02: Seinpankhone to Mandalay (B)
After breakfast, we start to see the Ayeyarwaddy Dolphins with local fishermen with their small canoe because the dolphins are afraid of engine sound therefore we must take small canoe and follow to the fishermen where they are collaborating with Dolphin for fishing in the river. It is amazing to see how they are fishing with dolphin. Firstly, fishermen knew where the dolphins are live around their village or somewhere else and when they see dolphins they start to tapping with bamboo to canoe or make sound like diffidence one guttural, then apparently the dolphins show the signal, it's mean you can collaborate with them for fishing so they swim to us on the other side of river closely and show their tail like vertical to stop the boat and catch the fish with net when they show their tail again like BUM your ready to throw quickly the net to catch fish after a few minute you can see the fishes are in net. This kind of method for fishing here in Myanmar were many years ago, the fishermen were took hand to hand and an old fisherman said to us since they were young they learnt from their grandfather. When we left from the village, we still have remarkable of the fishermen and dolphins how they are clever to each other and after that we had visited some villages on the way back to Mandalay.
What's included?
Accommodation in double bed.
Entrance Fee & Transportation cost
Meals as mentioned (B – Breakfast, L – Lunch, D – Dinner)
Boat trip
Tips and other personal expense
Permission, canoe and fisher fee
Guide services and tea and water
You May Also Like...
Customer Type Tours
Feature destinations


Hi Giang, We just got back from 2 weeks in Thailand and Myanmar. I just wanted to let you know that everything in Myanmar was wonderful. Your arrangements were among the best we have ever experienced on a tour. The guides were great. They met us on time at airports and were very friendly. I would especially recommend the guide in Bagan- San- who was extremely knowledgeable about the temples and history. Also, the hotels were superb- Bagan and Inle Lake were truly beautiful. I would definitely you use again if we return to Asia.
Thank you,

Mark Alpert
Monday, July 2, 2018
WHY MYANMAR TOUR WITH US?
We are internationally registered, well-recognized
We respond you within 12 hours
Local experts, true knowledge
Our service is personalized, customized at its best
Easy to pay online
Best customer care/policy
Committment to Satisfaction
Professional Consultancy
Unrivalled values