Ngwe Saung Beach
Ngwe Saung Beach is also on the western coast of Myanmar on the Bay of Bengal, nearly directly west of Yangon and a bit south of Ngapali. It has become popular with tourists in just the last four or five years and the quality of the beach, sand and water is comparable to Ngapali Beach. There are many hotels (most of them are deluxe or superior category) however a few more are being built. Until recently, the beach could be reached only by car (about 5-6 hours drive) from Yangon, or by a tourist ferry that would make an overnight trip (but sometimes the boat would not run if they did not have enough bookings). Like Ngapali Beach, the beauty of the beach is unspoiled and visitors can enjoy a peaceful and relaxing holiday.
The Sandy sea shore of the Chaung Thar Beach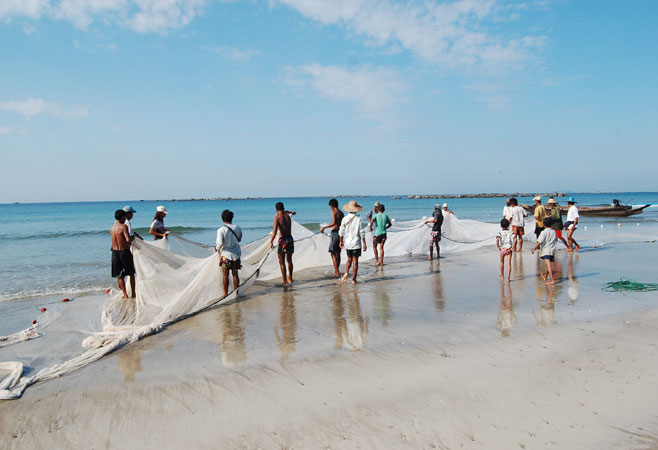 Fishermen at work in Ngwe Saung Beach
The sunset of Ngwe Saung
(Source: Myanmars dot net)
Other Information About Ngwe Saung Beach
Places to visit in Ngwe Saung
Elephant Camp
This Elephant Camp near Ngwe Saung is 32km from the riverbank of Pathein and 45 minutes drive from Ngwe Saung. It was founded in 2000. For the visitors, the camp has well-trained elephants to conduct elephant riding program in the forest. Walking in the jungle, hiking up and down steep hills and crossing streams on the back of these elephants are an excellent opportunity to observe. The entrance fee into the camp for foreigners is US$5 with an additional fee of $5 if you want to ride the elephants.
Elephant Camp near Ngwe Saung Beach
Feature destinations

WHY MYANMAR TOUR WITH US?
We are internationally registered, well-recognized
We respond you within 12 hours
Local experts, true knowledge
Our service is personalized, customized at its best
Easy to pay online
Best customer care/policy
Committment to Satisfaction
Professional Consultancy
Unrivalled values